Resources
Where to livestream your worship this weekend: LGBT-affirming churches, mosques and synagogues offering online services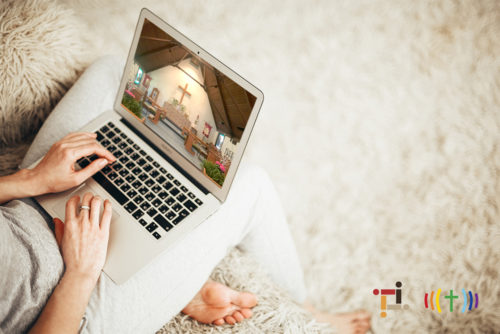 With social distancing regulations and health concerns limiting in-person religious gatherings, Believe Out Loud is committed to helping our community to connect to affirming spiritual resources. We have gathered below links to free livestream, video or podcast worship resources from LGBT-affirming organizations.
If you have an LGBT-affirming spiritual community to add to this list, please write to us at
believeoutloud@gmail.com!
MUSLIM
Masjid al-Rabia (Chicago, IL):
Prayers and community meetings available via Zoom
Ibn Rushd-Goethe Moschee (Berlin, DE):
German-language Friday prayer available via YouTube
JEWISH

Conservative

Sutton Place Synagogue (New York, NY):
Daily minyans over livestream

Jewish Renewal

Romemu (New York, NY):
Vimeo page with livestream worship services

Multidenominational/Nontraditional

Lab/Shul (New York, NY):
Homepage with livestream info for daily prayers, gatherings and Friday services
Congregation Beit Simcah Torah (New York, NY):
Community calendar with links to upcoming livestream services and events: 

Reform

Temple Israel (Memphis, TN):
Website with livestream info
Temple Beth El Tacoma (Tacoma, WA): 
Website with livestream info
BUDDHIST
Brooklyn Zen Center (Brooklyn, NY):
Schedule of daily online meditation sessions
CHRISTIAN

Baptist

The Riverside Church in the City of New York (New York, NY):
Worship schedule with livestream links
Calvary Baptist Church (Washington, DC):
Online update with streaming inf
Covenant Church (Houston, TX):
Online update with streaming info
Woodside Church (Flint, MI):
Online update with streaming info
Pullen Memorial Baptist Church (Raleigh, NC): 
Website with streaming info

Catholic

Mary Magdalene Apostle Catholic Community (San Diego, CA):
Homepage with livestream info
Nativity of Our Lord Parish (St. Charles, IL):
Homepage with livestream info

Disciples of Christ

Bixby Knolls Christian Church (Long Beach, CA – Disciples of Christ):
Facebook page with livestream info 
First Christian Church (Pomona, CA):
Facebook page with livestream info
Galileo Church (Fort Worth, TX):
ChurchOnline livestream page
First Christian Church Fullerton (Fullerton, CA): 
Facebook page with livestream info
All Souls Bethlehem Church (Brooklyn, NY): 
Facebook page with livestream info

Episcopal

Saint John the Divine (New York City, NY):
Worship schedule with livestream links
The National Cathedral (Washington, DC):
Worship schedule with livestream links
Episcopal Church of the Transfiguration (Dallas, TX):
Homepage with service and daily prayer livestream info
Christ Episcopal Church – Ponte Vedra (Ponte Vedra Beach, FL):
Facebook page with livestream info
Grace Church (Yukon, OK):
Facebook page with livestream info
Bushwick Abbey (Brooklyn, NY): 
Homepage with livestream info for services and daily prayers
St. Paul's Bellingham (Bellingham, WA):
Homepage with livestream info
St. Mark's Episcopal Cathedral (Seattle, WA): 
Livestream worship page
Trinity Episcopal Church (Redlands, CA): 
Homepage with livestream info
Christ Episcopal Church (Bloomfield/Glen Ridge, NJ): 
Homepage with livestream info
St. Paul's on the Green (Norwalk, CT): 
Website with livestream info
St. Mark's Episcopal Church (Richmond, VA): 
Website with livestream info
Trinity Episcopal Church (Everett, WA): 
Website with livestream info
St. Andrew's Episcopal Church (Port Angeles, WA): 
Website with video worship info
Trinity Church in the Central West End (St. Louis, MO):
Facebook page with livestream info

Lutheran

Edina Community Lutheran Church (Edina, MN):
Facebook page with livestream info
Gloria Dei Lutheran Church (St. Paul, MN):
Facebook page with livestream info
Epiphany Lutheran Church of Mount Vernon (Alexandria, VA):
Facebook page with livestream info
Midvale Community Lutheran Church (Madison, WI):
Homepage with livestream info
St. Mark Hope and Peace (Kansas City, MO): 
Homepage with livestream info
St. Paul's Evangelical Lutheran Church of Applebachsville (Quakertown, PA): 
Homepage with livestream info
First Evangelical Lutheran Church of Poughkeepsie (Poughkeepsie, NY):
Facebook page with livestream info

Methodist

First United Methodist Church of Salem (Salem, OR):
Homepage with livestream and podcast info
Open Worship, First United Church of Denton (Denton TX):
Facebook page with livestream info
United Methodist Church of the Resurrection (Leawood, KS):
Homepage with livestream info
Crossroads United Methodist Church (Asburn, VA):
Homepage with livestream info
Asbury First United Methodist Church (Rochester, NY): 
Website with livestream info
Trinity United Methodist Church (Memphis, TN): 
Facebook page with livestream info

Metropolitan Community Church

MCC Detroit (Detroit, MI):
YouTube page with sermon videos
Metropolitan Community Church of Our Redeemer (Augusta, GA):
Facebook page with livestream info
aChuch4Me MCC (Chicago, IL):
Homepage with livestream info
Joshua Generation Community Church (Hattiesburg, MS): 
Facebook page with livestream info 
Love MCC (Las Vegas, NV): 
Facebook page with livestream info
MCC San Antonio (San Antonio, TX): 
Facebook page with livestream info
Metropolitan Community Church of Greater St. Louis (St. Louis, MO): 
Website with livestream info |
Sermon archive 

Multidenominational/Non-denominational/Non-traditional

The Church of the Village (New York, NY):
Website with livestream info for services and daily prayers
Revolution Church (Minneapolis, MN):
Facebook page with live videos
Agape Empowerment Ministries (Savannah, GA):
Facebook page with livestream info
Forefront Church (New York, NY):
Website with livestream info
Bosque Center for Spiritual Living (Albuquerque, NM): 
Facebook page with livestream info
Open Church of Maryland (Arbutus, MD): 
Homepage with livestream info
Cascade Church (Portland, OR): 
Facebook page with livestream info
Full Truth Fellowship of Christ (Detroit, MI): 
Facebook page with livestream info
Queer Theology (Multidenominational LGBT affirming online community):
Website with podcasts, courses, and livestreams
Brave Commons (Multidenominational campus ministry):
Oratio podcast and livestream page

Presbyterian

More Light Presbyterians:
Roundup of  open and affirming livestream services for the Presbyterian community
Collenbrook United Church (Drexel Hill, PA):
Facebook page with livestream info
Friendship United Presbyterian Church (Chicago, IL):
Facebook page with livestream info
Grace Church Corpus (Corpus Christi, TX): 
Facebook page with livestream info

Reformed Church


of America

The Collegiate Church of New York (New York, NY – Reformed Church of America)

Believe Out Loud's parent ministry includes four open and affirming churches:

Middle Collegiate worship schedule with livestream links /
Marble Collegiate Chuch livestream page /
West End Collegiate Church homepage with livestream link /
Fort Washington Collegiate Church homepage with livestream info

Unitarian Universalist

All Souls Bethlehem Church (Brooklyn, NY): 
Facebook page with livestream info
The Sanctuary (Boston, MA):
Website with livestream info

United Church of Christ

The Riverside Church in the City of New York (New York, NY):
Worship schedule with livestream links
Bloom in the Desert Ministries (Palm Springs, CA):
Homepage with livestream info
New Ark United Church of Christ (Newark, DE):
Facebook page with livestream info
Community UCC (Champaign, IL):
Facebook page with livestream info
Irvine United Congregational Church (Irvine, CA):
Homepage with livestream info
Collenbrook United Church (Drexel Hill, PA):
Facebook page with livestream info
Island United Church (Foster City, CA): 
Facebook page with livestream info
All Souls Bethlehem Church (Brooklyn, NY): 
Facebook page with livestream info
Grace UCC (Lancaster, PA):
Facebook page with livestream info
Umstead Park United Church of Christ (Raleigh, NC): 
Facebook page with livestream info
Cresskill Congregational Church (Cresskill, NJ): 
Facebook page with livestream info
Faith United Church of Christ (Bradenton, FL): 
Facebook page with livestream info
Lynnhurst Congregational UCC Church (Minneapolis, MN): 
Facebook page with livestream info
Kenilworth United Church of Christ (Tonawanda, NY): 
Facebook page with livestream info
First Congregational Church of Battle Creek (Battle Creek, MI):
Homepage with Vimeo link

Unity

Unity of Palmyra (Palmyra, PA):
Homepage with livestream info
---