Spiritual Affirmation
We're Going Mobile for Greater Inclusivity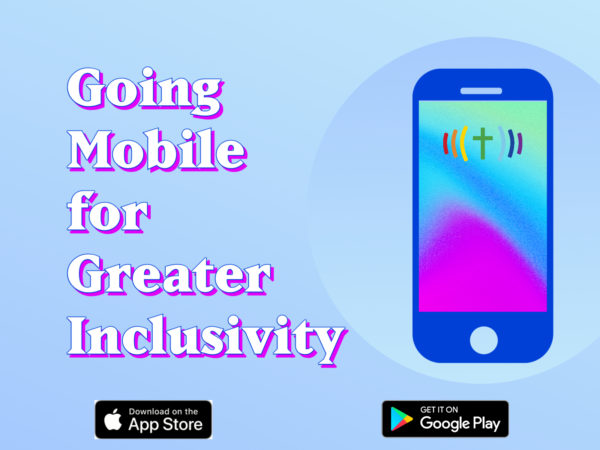 Increasingly, we connect with one another and receive information using our smartphones. The latest statistics reveal that roughly 2.5 billion people worldwide own a smartphone, and 91 percent of them use mobile apps.
But smartphones are more than just a convenient way to stay connected. In an unsafe environment, a smartphone becomes a gateway to live, explore and communicate the fullness of one's identity.
That is why we are excited to announce that we've launched a Believe Out Loud app. In today's mobile world, we felt it was important to upgrade the way we technologically engage with LGBTQIA people of faith, making it quicker and easier to access content.
While content can always be viewed on our website via a mobile device, we also recognize that doing so requires strong, reliable Wi-Fi. That's not a luxury everyone has.
So, in our effort to truly be all-inclusive, we realized we needed to expand beyond wealthy metropolises and reach LGBTQIA people of faith who live in rural areas and in parts of the world where spotty Wi-Fi is as much a technical issue as it is a political instrument. Now, BOL community members will be able to download our complete catalogue of web content and access it offline at any time.
Developing an app for Believe Out Loud moves us to the literal margins of the world—from refugee camps to improvised road-side shelters on a migrant trail.
With all the turmoil and tragedy that occurred worldwide in 2020, a program like Believe Out Loud grows in importance. BOL creates space for people to connect with perhaps the most profound elements of identity―sexuality, gender and faith. As hostile discourse envelops the intersection of these issues, our work becomes more crucial.
We need to be accessible where lack of access is part of the oppression. We continue to hear from our colleagues about what a crucial resource Believe Out Loud is. Now, through our app, LGBTQIA people of faith will have access to information on open and affirming organizations and houses of worship, worship services and more―no matter where they are and no matter what their circumstances.
The app is available on both the Apple iOS and Google Android platforms. To download the app, simply search for Believe Out Loud in the respective app store and download to install.
---