Spiritual Affirmation
Star of Hope
Have you ever wondered why we give gifts on Christmas? The tradition of giving and receiving presents has been going on for centuries. Perhaps, because we are reminded of all the gifts we have received from our creator, and most significantly, the life of Jesus Christ. This year, most of all, has left so many of us searching for a way to return to some sense of normalcy. Before the fires, plagues, hurricanes, and tornados, we use to look forward to Christmas. Now, the holidays are here, and the question remains, "What's there to celebrate?"
The star on top of the Christmas tree serves as a reminder of a time long past, when three wise magi followed a bright star in the heavens to the resting place of the Christ child. Our struggle of finding a reason to celebrate is no different than the struggle that is often overlooked in all of Christendom. Just as the magi pressed towards a treasure not yet seen, we press towards a future where our freedoms are no longer abused, and equality is safeguarded from tyranny. In every way, we struggle to find the ability to persevere through adversity.
One cannot persevere without hope, for without hope what would motivate us? We must hold fast to hope, remembering the story of the three magi who searched for and found their greatest treasure. Hope in God and His love, because one hardly finds a treasure without hoping that it exists. The star is a symbol of hope, guiding us to our treasure. Some of us want to find love, some financial security, and others dream of a world free of discrimination and oppression. We cannot attain what we do not hope for or search for what we do not believe can be found. Let hope guide you to your treasure, and by faith you will find it. Though we have lost much, we can celebrate what we still have…the love of Jesus who guards our hope.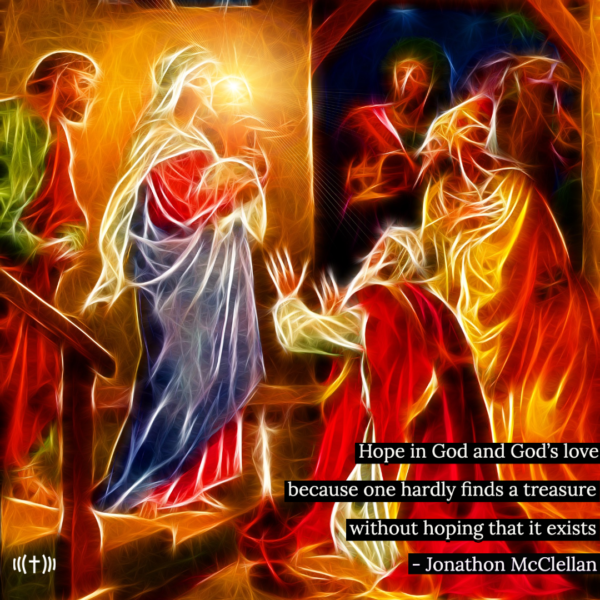 Prayer
Bless You, Jesus! We have seen Your star and we will follow it. With golden rays, You shine on us. How beautiful and precious is Your love. When nights are long, cold, and dark, Your hope remains to us a guiding star. Amen.
Jonathon McClellan is an award-winning author who often writes devotionals for Cathedral of Hope. In the Spring of 2022, he will release Messages of Hope for adults and The Ant's Palace for children, each the first of series empowering adults to keep hoping and encouraging children to look beneath the surface to find true riches. A large part of the proceeds will be donated to Cathedral of Hope programs for the homeless. Learn more Facebook.com/NewSeedsOfHope.
---