Black
Highlighting Black + LGBT Pioneers: Alvin Ailey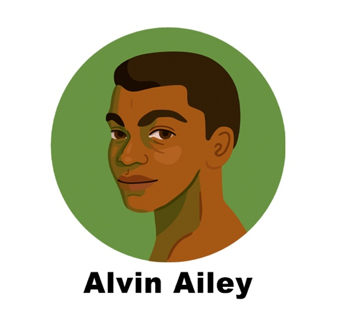 Alvin Ailey was born in 1931 in Rogers, Texas, and grew up in a time of economic crisis (the Great Depression), racism, violence and segregation. His father abandoned his mother when Ailey was only three months old, forcing the family to work in cotton fields and as domestics for white households. Yet with the support of a strong extended family network who provided housing and childcare, Ailey was free to explore his creative and intellectual urges, including an early aptitude for foreign language.
His childhood was one defined by trauma, starting at age 5 when Ailey's mother was assaulted and raped by four white men – none of whom were ever brought to justice. As an adult, Ailey said that he struggled with self esteem as a result of the racially violent climate [1] of his childhood in the South.
Ailey found refuge and relief in arts and the church – and in sneaking out at night to watch the adults dance.
Ailey was inspired in his burgeoning dance and choreography practice by the Lester Horton Dance Company, Carmen de Lavallade, Harry Belafonte, Katherine Dunham, and Jimmy Truitte. He studied a wide range of dance techniques, from Native American movements and styles to ballet. Disengaged by the techniques of prominent choreographers, Ailey began to dance, set-design and choreograph his own pieces. In 1958, he founded the Alvin Ailey American Dance Theatre (AAADT) in New York City. Revelations, Blues Suite and Cry are among his most famous ballets.
Ailey chafed at the stigma that all dancers were gay; he never came out publicly and was closeted about his same-sex romantic affairs. Upon the death of Judith Jamison, the most famous AAADT dancer and his successor as artistic director, Ailey went through a dark period of cocaine and alcohol abuse that "contributed to some reckless behavior and revealed the existence of a mental health disorder. This and the stress of funding a dance company, combined with his drug use, caused Ailey to have a nervous breakdown." [2]
Ailey died from HIV/AIDS complications on December 1st 1989, the year after the first World Aids Day commemoration in 1988. To shield his mother and brother from the stigma and shame of HIV/AIDS, Ailey asked his doctor to announce his cause of death as blood dycrasia.
Ailey lived his passion, pushing the limits imposed on dancers who didn't fit society's ideals. With its international touring schedule, the AAADT earned him the nickname "Cultural Ambassador to the World."  His repertoire, fusing theater, ballet, jazz and modern dance, remains critically acclaimed, and his legacy is revolutionary. Ailey was posthumously awarded the Presidential Medal of Freedom from President Obama and the legacy of his creative gift continues to this day. The AAADT and its affiliated dance school continue to be a haven for African American artists and for  "hope-fueled choreography that continues to spread global awareness of black life in America." [3]
Check out Jack Mitchell Photography of the Alvin Ailey American Dance Theater Collection
Graphic from @queerportraits – IG
---