Spiritual Affirmation
Advent Reflections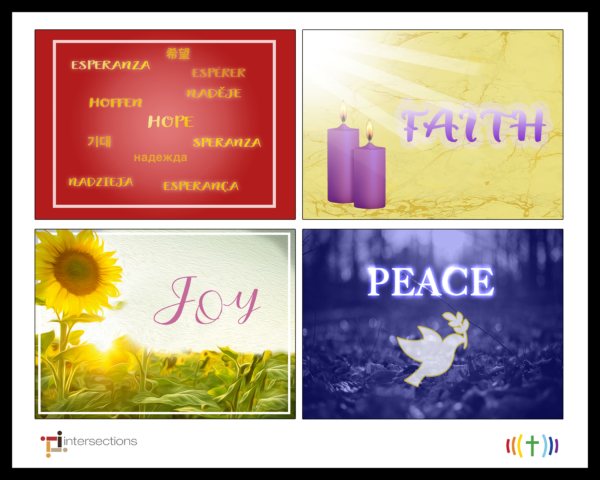 In Advent, while we await the birth of Jesus, so many things come to life. Lights flicker on trees, wreaths are hung and typical house plants are replaced by festive poinsettias, all seeming to symbolize expectation and arrival, an outward hope. However, the anticipation of a cozy and cheerful holiday is not accurate for many people. This season can be tinted with hues of the dark blues; depression, sadness or anxiety. Those grieving the loss of a family member, close friend or life partner can feel down and out or overwhelmed by grief and melancholy this time of year. The LGBT community is one group similarly affected during this holiday season. Thinking of being out, coming out and believing out loud during the holidays can be challenging, can trigger a great deal of distress and fill LGBT people with fear, emotional angst, trauma and discomfort.

"I will extol You, O LORD, for You have lifted me up, And have not let my enemies rejoice over me. 2 O LORD my God, I cried to You for help, and You healed me. 3 O LORD, You have brought up my soul from Sheol; You have kept me alive, that I would not go down to the pit. 4 Sing praise to the LORD, you His godly ones, And give thanks to His holy name"
– Psalms 30:1-4 (NASB)
Like David, some LGBT people might find themselves facing a pit because of detachment from their faith, their family values and vision of and for the world. Traditional family gatherings can feel inauthentic, dysfunctional and incompatible especially when discussing the problems of the world. This season of Advent has me thinking about what is to come regarding local and global laws that impact climate change, gun control and sexual discrimination, violence, racism and white supremacy. For many families, discussing politics and the myriad social issues before us can cause major disagreements, fights even.  Family rifts can be hard to fix. It can also be dangerous to be out or associated with the LGBT community, especially in front of the holiday dinner plate in conservative parts of our country and world. For LGBT people it can mean suffering the loss of basic needs, the loss of human cornerstones like love, acceptance, respect, dignity and sometimes, life itself.
Positive images and words can sweeten bitter bites. An image that solidifies my faith is Born Again by Dean Kermit Allison. Without words, it speaks. The sculpture serves as a visual aide-mémoire of our eternal salvation and the strength found in being part of God's family, fully embraced and wanted. The sculpted human sheds physical skin and is cleansed into a spiritual relationship with God, who accepts and loves us deeply as our true, naked, authentic selves.
No one should have to endure homophobia, transphobia, racism, sexism, or xenophobia. I yearn for a world full of community and sacred spaces that reconcile spirituality and identity and glorify divinity and dignity. On the long road to that progress we must find ways to have joy.
"…Weeping may last for the night, but a shout of joy comes in the morning."
– Psalms 30:5b (NASB)
Joy does not depend on the ever-changing state of the world or individual highs and lows. Joy is the spiritual awareness that although the world is full of trouble and people walk in darkness, those who walked in darkness will see a great light. The life of Jesus says clearly and loudly that God has overcome the world and that all are welcome at the table.
And the peace of God, which surpasses all comprehension, will guard your hearts and your minds in Christ Jesus."
– Philippines 4:7 (NASB)
---