Nondiscrimination
Title VII – Our Chapter
Under the motto Know your truth – Speak your truth – Live your truth, we provide regular updates and background information on important stories and developments for the LGBT community in the world of politics, law and religion.
This week's topic: The three LGBT Title VII cases pending before the Supreme Court.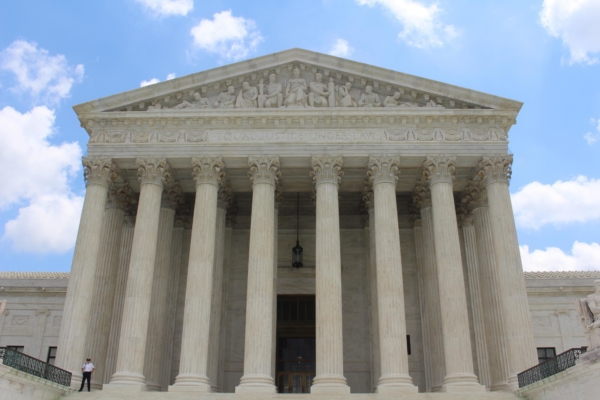 On October 8, the U.S. Supreme Court will hear three cases on whether employment discrimination on the basis of sexual orientation and gender identity is illegal under Title VII's prohibition on sex discrimination.
With the current conservative majority on the court, many legal analysts fear a sweeping reinterpretation of Title VII—the chapter of the 1964 Civil Rights Act that prohibits workplace discrimination on the basis of race, sex and religion, among other factors.
The possible outcome? Legal protection for employers discriminating against LGBT employees.
As written in the mid-1960s, Title VII does not explicitly include discrimination based on sexual orientation or gender identity. Conservative legal analysts and lawyers argue that at the time of enacting Title VII, Congress did not anticipate the modern LGBT landscape and therefore didn't intend to extend the law's protections to LGBT people. According to these voices, adding to the list of protected characteristics in employment discrimination is beyond the purview of the courts and rests solely with Congress.
However, since the Court's landmark decision in
Price Waterhouse v. Hopkins in 1986—which established that discrimination based on the failure to conform to sex stereotypes is discrimination because of sex—a strong body of precedent clarifies that all forms of sex and gender stereotyping fall within the scope of Title VII's sex discrimination provision. Therefore, a company that fires a lesbian employee because of her sexual orientation would be basing the decision on the stereotype that women are only partnered with men. Similarly, a trans woman who is fired due to her gender presentation would be subject to stereotypical beliefs about the dress and social behavior of her sex assigned at birth.
Yet the conservative-leaning court of 2019—which
recently upheld President Trump's ban on service by openly transgender people in the military—potentially stands to roll back these thirty years of precedent. Of the three cases scheduled for hearing, two involve gay men who were fired from their jobs after their employers learned of their sexual orientations; the plaintiff in the third case is a trans woman who was fired after wearing women's clothes to work. LGBT advocates fear that conservative justices will form an argument that these circumstances do not qualify as prohibited discrimination under Title VII.
Over the past few decades, several attempts have been made to advance federal nondiscrimination protections for LGBT people. None have succeeded, and for the past twenty years much of the legislative action on behalf of the LGBT community has gone to the push for marriage equality. This long effort paid off in the 2015
Obergefell v. Hodges Supreme Court ruling that effectively outlawed same-sex marriage bans in all 50 states by requiring states to recognize and license marriages between two people of the same sex.
Even as same-sex couples are able to legally wed, LGBT people are still not fully protected from workplace bias, nor if they want buy a house or take out a bank loan;
only 20 U.S. states have full LGBT nondiscrimination protections on the books. Additionally, the years since the passage of marriage equality have seen a rise in anti-LGBT prejudice both socially and legally: the wave of "bathroom bans," the election of Donald J. Trump on a platform reacting against social justice movements broadly, the
Masterpiece Cakeshop ruling—opening the door for more refusals of services for LGBT people based on religious beliefs—and most recently, the transgender military ban.
As Masha Gessen writes in

The New Yorker
: "In a sense, the marriage movement laid the groundwork for backlash by making queer people more visible—including those who didn't even stand to benefit from marriage rights."
Increased visibility creating increased tension is a deeply worn pattern in human life. We encounter it in our own growth as individuals coming to terms with our identities, and within our communities as we move into affirming identities that are at first unfamiliar to us. Speculating about the final ruling on these three cases, and what it could mean for the rights of LGBT Americans in the 21
st century, is deeply scary. A decision denying that LGBT people have the right to be protected in the workplace may come down shrouded in literalist legal jargon, but it will fundamentally be saying that this community doesn't count, that our identities have no footing in the law. Before we can know how the court will rule, it's worth remembering all the ways in which we can work through tension and affirm the reality of LGBT identity closer to home—and how we can strengthen these practices to face whatever future is coming.
Sources:
http://www.jostonjustice.com/2019/04/on-lgbt-rights-roll-of-dice-at-court.html
https://rewire.news/ablc/2019/04/24/boom-lawyered-price-waterhouse-v-hopkins-edition/
https://slate.com/news-and-politics/2019/04/john-roberts-brett-kavanaugh-supreme-court-lgbtq-cases-sexual-harassment.html
https://www.newyorker.com/news/our-columnists/the-dread-of-waiting-for-the-supreme-court-to-rule-on-lgbt-rights
---