Mental Health
Karaoke for One: Jude's Isolation Experience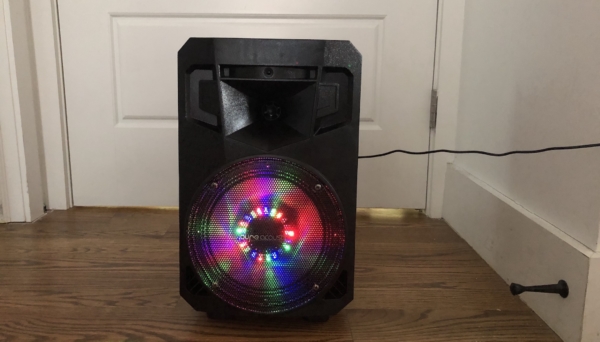 [Above: a home karaoke system]
On March 4, I bought a karaoke machine.
My 30th birthday was coming up at the end of the month. I don't usually celebrate elaborately. I hadn't had a birthday party since 2015. I was thinking this would be the year to go all-out before I retreated to birthday seclusion for another half-decade. I was planning my playlist, thinking of signature cocktails, texting out save-the-dates and telling friends to brace themselves for the off-tune Broadway renditions I would be subjecting them to, which they would have to tolerate. After all, it was my 30th birthday.
Ten days later, the city was descending into social-distance lockdown. The karaoke machine, which had arrived perfectly functional and ready to party, went into the closet.
Homebound, I was full of energy and anxious to drain it however I could. I got up at 6am and went running. I spent my workday in front of one computer and transitioned to another computer to attend to volunteer obligations that were in the process of transitioning to remote operations. I started a nightly routine of blasting classic musical soundtracks while doing push-ups. I found the people in my neighborhood organizing mutual aid over a Slack group and started doing no-contact grocery pickups for neighbors who couldn't get to the store.
I felt OK. Right? I was fine. But what about my aching arms and legs? (I was obsessively doing jump-rope, push-ups and squats.) What about my weird throat tickle? (I had been stuck inside my dusty, cat-hair filled house for 3 weeks.) Was that a fever? (My brother, God bless him, drove a thermometer down to my house. It wasn't.)
What about my impending sense of doom? My fear, dread and shame of my complicity in the systems that had caused this crisis to become so much worse than it could have been? The way my anxiety spiked with each tweet, headline, Slack notification?
By week three, I was having a minor breakdown. It was Holy Week, and all hands were on deck at this (digital) ministry. Something I'd heard in a (digital) Good Friday service stayed with me: from the palm-waving entry into Jerusalem until the Crucifixion, the original Holy Week was a time of crisis. Woven between the somber ritual and build-up to celebration is a whole lot of anxiety. The thought comforted me, to an extent, as I stress-scheduled social copy, stress-baked brownies, stress-cross-referenced Bible verses and stress-checked my temperature.
But by the time Easter rolled around, I had completely worn myself out through psychosomatic COVID anxiety. I didn't want to read the news anymore. I didn't want to germinate the seeds my aunt had sent me from her garden or reorganize the pantry again or write a letter to a homebound senior citizen or help my high school mentoring program run a digital session or any of the millions of projects swirling around my exhausted, terrified mind.
I wasn't capable of helping myself, let alone anyone else.
I took the karaoke machine out the closet. I queued up Bruce Springsteen's "The Promised Land," from "Darkness on the Edge of Town," an album that brings me as close to the divine as any hymn. Alone in my living room, I turned on the strobe lights and started to sing.
"I've done my best to live the right way
I get up every morning and go to work each day
But your eyes go blind and your blood runs cold
Sometimes I feel so weak I just want to explode."
It was low-volume, low-energy karaoke, for an audience of zero. (My wife, from the other room: "Keep it down in there, it's Monday night!") Not exactly the birthday celebration I'd planned. But the longer I sang, the more I felt like myself again.
As social distancing continues, I'm going to try to keep singing—to keep myself sane, to connect with others (it turns out you can still subject your loved ones to karaoke over Zoom) and to give myself the strength I need to try to make a difference in small incremental ways. I hope we can all find the rituals we need to support ourselves, so that we in turn can go out and support the communities around us.
---